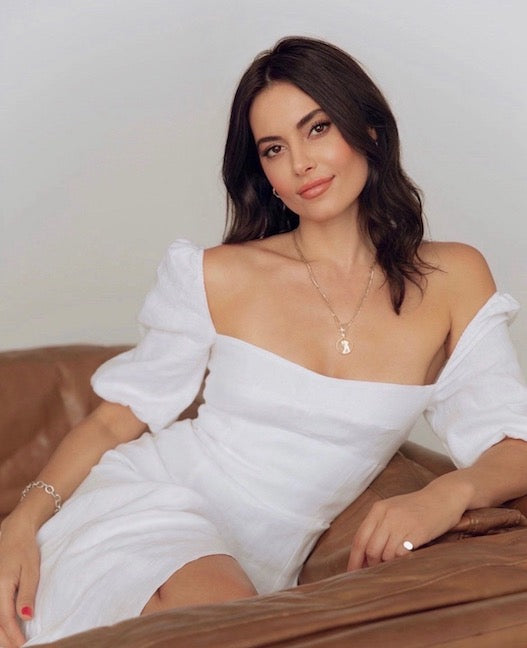 OUR FOUNDER
Adriana Bena
Los Angeles-based and Albanian-born, Adriana Bena's inherent passion for art and beauty sparked her journey as a makeup artist. With decades of hands-on experience treating, priming and enhancing countless faces, Adriana has cultivated a deep understanding of what it takes to nurture and maintain healthy skin. Combining her industry experience with her Albanian heritage, she's crafted a unique collection of performance-based skincare products that strike the perfect balance between ancient remedies and modern science. Inspired by her grandmother's beauty rituals, each product is infused with medicinal herbs such as Çaj Mali, wildcrafted from the Balkan Mountains — honoring timeless traditions that prove nature is the ultimate healer. Adriana's mission is to provide clean, effective skincare for all — with products that not only nurture her own skin but seamlessly adapt to the diverse skin types she works with on a daily basis. The result is Për Në Skin. Skincare For Us. Skincare For All.
OUR HERO
Çaj Mali
The Albanian region of the Balkan Mountains is incredibly rich in flora, home to hundreds of different medicinal herbs. Growing over the rocky slopes at alpine altitudes, Çaj Mali was historically used to treat the wounds of soldiers and is one of the most coveted herbs from Albania because of its incomparable healing factors. Due to the high content of naturally occurring antioxidants and anti-inflammatory properties, the capabilities of Çaj Mali are vast, showing positive improvements whether applied topically or ingested as an immune-boosting tea. We were inspired by the history and potency of Çaj Mali, quickly recognizing it as a rare resource that could be tapped into for healthy, youthful skin. Our mission is to use the tried and true remedies of our ancestors to create high-performing, multi-purpose products that nurture the skin from the outside in.
OUR IMPACT
Sustainability is a Core Foundation of Për Në
We are dedicated to sustainability and leaving the world better than we found it. To us, that means ingredients that are consciously sourced. We take the time to find responsible and ethical producers, always opting for organic farms when possible. Our admiration for animals is limitless; we do not allow for any animal testing, nor do our suppliers. Less is more, so we've designed our packaging and shipping boxes without excess materials. We strive for minimal plastics, using glass bottles and recyclable paper, meaning you can reuse or recycle everything that comes with your products! Together, we can improve the future of our skin and our planet.
1% of Sales to a Better Future for Animals
To care for the well-being of our planet is to care for every life that inhabits it. In creating Për Në, Adriana saw an opportunity to extend her reach by giving back. A true animal lover at heart, she decided to focus her efforts on supporting animal shelters in countries that need them most. Our mission is to get vulnerable animals off the streets and provide them with the necessary medical care and nutrition. Being the birthplace of our founder and some of our favorite ingredients, we plan to begin our support in Albania and expand to other countries as we grow. One percent of our sales will go towards this meaningful cause. To purchase from Për Në is to support the health of your skin and the well-being of deserving animals. This is skincare for us.